Printer error art/Acasos numéricos
Printer.error.art is an artwork with those images that suddenly appears: no were created, planned, and even thought.
They are not digital images, but were "born" by digital machines. They are not interactive, but are unique: a casual an accidental image, like numbers, graphics, inks, error codes, letters…
It's a printer error.
I make an appropriation of these images, and combined with other, creating an artwork with this graphics fragments, using collage, painting, enlargements and image manipulations.
What I call Printer.error.art (or digital casuals) are these images, which was really "born" from the machines.
They appear from nothing, by accident, created from the technologies, with no pretension, I gave a new meaning: an esthetic experience.
Usually, these errors go to the garbage, away.

Or don't, if they were appropriated by the art.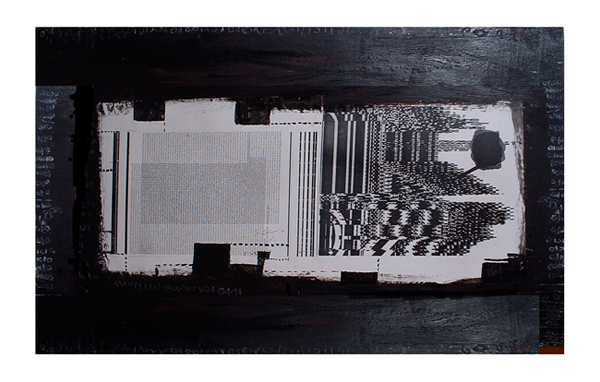 ........................................................................printer.error.art 01010101010101 - acrilic / paper on board 1,6 x 80 cm

..................................................................................printer.error.art 0202020202 -acrilic / paper on board 1,6 x 80 cm
Que imagens são estas, que surgem de dentro do computador, sem serem criadas, solicitadas, planejadas, sequer pensadas?

Não são digitais, mas nascem das máquinas digitais. Não são interativas nem planejadas. São impossíveis de serem repetidas, seriadas (cópias e auras) já que o erro, resultado do banco de dados, da passagem da informação, por mais algorítmico que seja, muito dificilmente se repetirá, exatamente da mesma forma, com todos os itens (computador-papel-impressora). É uma imagem absolutamente casual. Um erro.

Me aproprio dessas imagens e as congelo, criando algo a partir desse grafismo efêmero e único, desse erro nascido da máquina-computador, através de colagens, montagens ou ampliações.

O que chamo aqui de Printer.error.art (ou acasos numéricos) são estas imagens surgidas, criadas a partir do meio tecnológico, sem nenhuma pretensão - somente uma experiência estética, totalmente interfaceada pelos meios digitais tecnológicos, totalmente nascida deles: os acasos da criação numérica.

Estes erros de impressão vão normalmente para o lixo.
Podem não ir, se forem apropriados pela arte.